Enjoy A Warm and Refreshing Cup of Jobsite Java.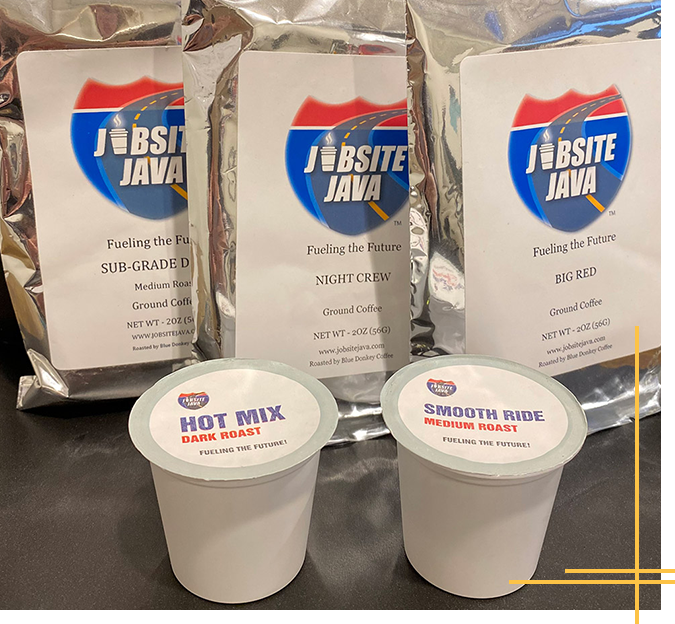 Jobsite Technologies is passionate about our coffee and we're delighted to deliver a variety of Jobsite Java flavors to your workday cup. Our Brazilian and Honduran beans are blended from a wide selection of light, medium and dark roasts for tantalizing your tastebuds and keeping you energized throughout a hard day's work. Choose from our specially blended flavors such as: Big Red, Night Crew, Hot Mix, Smooth Ride and Sub-Grade Decaf.
We believe that every coffee lover deserves the perfect brew, tailored to their preferences. That's why we offer an extensive range of coffee options to suit every taste and brewing method.
For the purists, our whole bean selection allows you to grind your coffee fresh for that exquisite aroma and personalized strength. If convenience is your mantra, our ground coffee provides a quick and hassle-free brewing experience, ideal for busy mornings.
And for those who crave the ultimate convenience without compromising on quality, our K-cups are a game-changer. Experience the ease of single-serve brewing, all while indulging in rich, flavorful coffee that's always consistent.
Treat your entire team to the smooth, refreshing tastes of Jobsite Java, offered exclusively from Jobsite Technologies.